We had a blast at City Market on 104th Downtown Edmonton! And we learned some lessons as a new vendor from things we did well, to a few steps we will do differently. If you're thinking about selling products at a market – here are some thoughts:
1) Invest in a logo'd tent – it really stands out! With increased brand recognition, we hope that over time, it helps customers find us!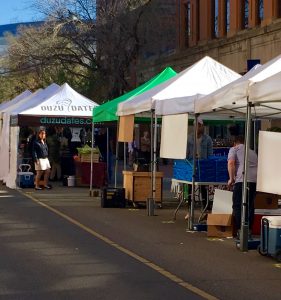 2) Our tent is sturdy, which means the materials are a little heavier, and it's definitely a two-person job. Bring help!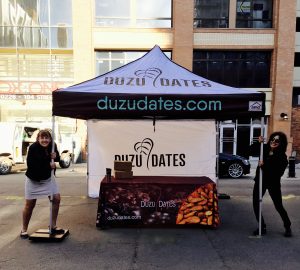 3) Have a backdrop on your tent. This way you can focus on customers at the front and not worry about what is happening behind you.
4) Ah yes – the sun – so beautiful! But not your friend if you have a product that does not react to well to heat. Um, yes, we have a chocolate-covered product. We learned a brilliant strategy from a fellow chocolate vendor – display empty packages – they look beautifully wrapped on the outside, but inside is cardboard to create structure and weight. Next time!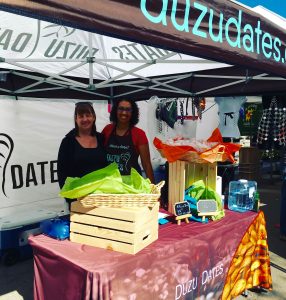 5) Create some variations in height. We used crates from Michael's as a low cost method to display items low, mid, and elevated height. We still need to finesse our approach, but we felt the crates were sturdy and heavy enough to withstand any wind gusts.
6) Bring a "stress" mat, or something rubber-based to stand on. While it may be tempting to bring chairs and sit, there's simply little time to relax, and being ready to greet your customers, facing them with a smile, is so much more approachable!
7) If you're a food vendor, don't hesitate to charge a small price for samples. Rather than try to cut up our very large dates into small portions, we offer whole dates for $1. This gives us the opportunity to talk to customers and share the details of what they are about to eat; it also ensures that not everyone is trying to reach onto the plate ready to grab and go – very unsanitary. We find people are pretty amazed that they get a whole chocolate-covered date for a dollar! It's a bargain.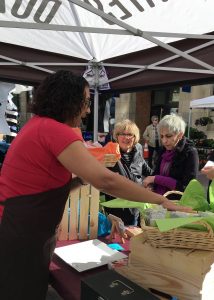 Finally – just have fun! It's easy to get overwhelmed when crowds form around your product and your booth – but this is a great problem to have! Often they will start answering questions for each other if you're too busy to get to them right away. Your customers can be your best salespeople.
On that note – we so appreciate each and every one who comes by to see what we've got and to give Duzu Dates a try!