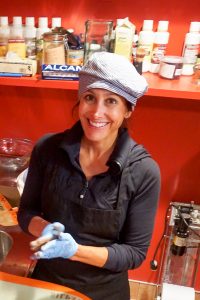 It all started in 2012 following a trip to Dubai, UAE. It was here that Duzu owner, Lorena Prakash, discovered delicious and delectable dates, infused with caramelized almonds, pecans, crystallized ginger and orange, and often enrobed in chocolate. Delicious!! But upon returning to Calgary, Canada, she couldn't find anything that remotely compared to these delicious and nutritious treats. When she couldn't stop dreaming about these dates from the Middle East, she became obsessed with creating her own. She began to ponder – where do dates even grow?
Turns out, date palms thrive in dry, hot, climates, and desert-like land. Duzu Dates medjool and barhi dates are sourced from Aziz Farms and Oasis Date Gardens in Thermal, California. Bet you didn't know there are over 400 varieties of dates in the world!?
After testing a variety of recipes in the market, we launched with our most popular and core product: Organic Medjool dates, filled with organic roasted almonds and enrobed in rich dark chocolate, or creamy milk chocolate then delicately topped with Pink Himalayan salt.
We are committed to work with the finest ingredients, and import the most succulent organic dates.
Duzu Dates believes in pure, natural ingredients that treat your soul and satisfy your cravings. Born from humble, health-driven beginnings, Duzu Dates is quickly expanding in Western Canada via local grocery chains, specialty stores and, with the help of online shopping, Duzu hopes to reach the entire Canadian market.
Duzu Dates practices unwavering excellence and commitment to consumers with discerning tastes. We believe that thoughtful preparation and natural ingredients create treats so delicious that it is easy to forget they are healthy. We want our consumers to know what goes into our dates (besides love) because your health and trust is important to us.
[/aboutsec2]
Our mission
Duzu Dates is committed to sourcing the finest ingredients utilizing equitable and fair wage practices. Our dates are superior in quality; healthy and irresistible.
Our mission is to make nutritious, yet indulgent treats that offer a healthy alternative to satisfy sweet cravings. We have developed simple recipes with few ingredients expertly combined to deliver a delicious product. Dates are not only rich tasting, but they are packed with nutrients that provide superior health benefits and boost energy levels.
We don't just make fancy dates. We want to share our mindful balance between health and happiness in each hand-packaged delight. These delectable dates are the perfect afternoon snack, party favour, gift, or quick treat on the go.
[/cover]
The stories of Duzu Dates